Emblematic badge
The design for the above Emblematic Badge is based on the eight-pointed Brunswick Star, which forms the central part of the British Fire Service Badge. The eight points or 'tenets' of the star represent the following qualities: -

Tact – Gallantry – Dexterity – Observation – Perseverance – Loyalty – Explicitness – Sympathy
The red roundel with the simple but meaningful statement "Firefighters Serving Humanity" is symbolic of protecting the Nation, which in turn is symbolised by the Union Flag in the centre of the roundel.  The Laurel Wreath, a symbol of solemnity and respect gives dignity by embracing the badge.  The newly created 'Fire Crown' adorns the Brunswick Star Crest and rests on the central roundel.

A gold scroll under records the name in of the Charitable Trust in black and is supported on both sides with a small emblematic brass Victoria Fire Helmet.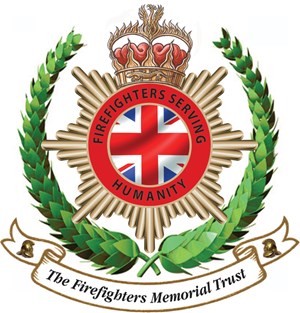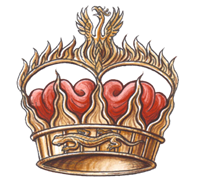 The Fire Crown - A Heraldic Description
A gold circlet decorated with the rungs of a ladder palewise surmounted by two salamanders (one showing) fesswise also gold.
Issuing from the circlet rim eight wavy tongues of fire (five showing) palewise supporting four arches enflamed and from the centre point a phoenix rising from the flames all gold.